Connect
We do not exist for ourselves alone, and it is only when we are fully
convinced of this fact that we begin to love ourselves properly and thus
also love others. Thomas Merton
Classes
Uncover the mysteries and secrets of God's hidden treasures in an atmosphere of dialogue and innovative learning.
Eternity is timeless and it is the realm God lives in—the one He wants us to live in
with Him, even here on earth. It is a realm that reaches beyond our imagination,
beyond our capability to understand, and beyond our mental, time-constrained
reasoning. Entering God's realm teaches us, stretches us and prepares us in ways
we never thought possible, for it is unimaginable. John Paul Jackson
Tutorial
This class is designed to teach about the biblical principles of dreams and their interpretations. As a preparation for marketplace ministries, Dream Tutorial offers extended training in worldview concepts that inspire new expressions of communicating with those seeking spiritual truth.
Research
Multiverse is a research approach that is designed to expand individual knowledge by incorporating various methods of historical and philosophical analysis from a confluence of models.
Mentoring
When your path collides with the Creator of the Universe, your world is forever changed. Prophetic mentoring is an innovative way to be guided by God's voice.
Training
Morton Kelsey once said, "The inner journey is as individual as our thumbprint. We need to guide others on their way and never
impose our way upon them." Leadership at Springs Gate would
like to encourage and assist you to become a leader that gently
guides others to discover their spiritual path. We offer
personalized training, creative expression and forums to help you discover your gifts and talents for advancing God's Kingdom.
Elder Tree I
Book I of Elder Tree was written to convey the wisdom and mysteries of the ancients and give expression to the King of the Universe. The tale spans the knowledge of various cultures familiar with Elder Tree, a mystical reference to the disciples and initiates who knew the secrets of the cosmos and the nature of God.
i Hear God
A Smart Course Series for Kids
iHear God is a curriculum designed to help children listen and hear God. With the imaginative use of social media terminology, iHear God is formatted to make learning an adventure. In no time, your child or student will master the skills to make hearing God's voice an exciting daily discipline. iHear God is part of the Smart Course Series that includes other genres and teacher editions.

Grab a cup of coffee while I tell you a story. Sit back and relax as you find a little inspiration for your week.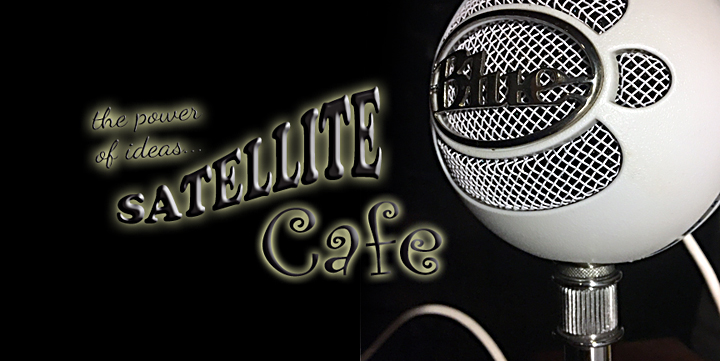 Satellite Cafe
Feet on the ground and head in the sky
The Café is a net radio program using the power of ideas to bring enlightenment into your spiritual orbit.
Watch for new posts
Every Month we are challenged to create a stimulating interview.
Scroll down the the list for the latest podcasts!
Find out more...
Please contact us with your questions.